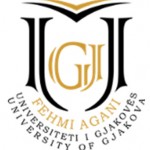 University of Gjakova "Fehmi Agani"
The University of Gjakova "Fehmi Agani" (UGJFA) is a descendant of the High School for Teacher Training of the 1960s and of the University of Prishtina. The government of Kosovo established the Public University of Gjakova by decree number 02/118 on 06.03.2013, which was ratified by the Kosovo Parliament on 30.05.2013. The Public University of Gjakova began operating on 1 October 2013 with three Faculties: the Faculty of Education with two study programs – Preschool and Elementary; the Faculty of Medicine with two study programs – Nursing and Midwifery; and the Faculty of Philology with three study programs – Albanian Language, Albanian Literature and English Language and Literature. 
The programmes are labour market oriented. After completion of their studies, students are ready to find work in public and private institutions but are also able to open their own businesses.
The Study programs at UGJFA are based on the Bologna system and foresee the transfer of credits.  They are closely related to the demands of the labour market in the region and wider area. The academic staff of the university are expected to transfer the required knowledge and skills to their students to prepare them for the needs of the labour market. This is also done through the comparison and equivalency with similar or the same study programs of other Higher Education Institutions (HEIs).
The Strategic Development Plan of the University aims to advance existing and establish new study programs and establish cooperation with relevant stakeholders through Memoranda of Understanding (MoUs) with European and Regional Higher Education Institutions.
Role of the University in this project
As the newest public university in Kosovo, UGJFA will particularly benefit from its involvement in the project, especially by gaining project experience. It will be the joint leader of WP6 and will also participate in the activities of all other WPs. It will host workshops and seminars held in Gjakova; appoint a Placement Officer and sign MoUs with at least one partner company of the project (WP1); nominate staff for placements and participation in workshops related to writing case studies (WP2), appoint staff to work on reviewing the curricula with a view to including skills and knowledge needed by enterprises (WP3), allocate staff to be involved in the provision of training courses for enterprises (WP4) and advice to SMEs (WP5). It will provide time for professors and assistants and other staff to attend workshops and seminars held in EU countries as foreseen by the project (WPs 1-4). It will participate in, and contribute to the organisation of the Dissemination Workshops (WP7) and internal and external evaluation of the quality of the project (WP6). UGJFA will work closely with the two NGOs to contact SMEs. They will assist SU in WP8 by maintaining good records and documentation.
Staff invloved in the project: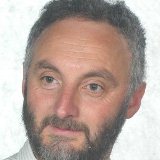 Shaban Buza
Prof. Dr. Shaban Buza has more than 32 years of working experience at University of Prishtina. Full Professor since 2009. Graduated from the Faculty of Mechanical Engineering (FME) at University of Prishtina in November 11, 1982; in 1988 got Master degree on Optimal Design of Electromotor from FME in Mostar in Bosnia and Herzegovina Primary and 1998 PhD degree on Turbogenerator Design and Optimisation at FME in Prishtina. Working and research experience includes the FEM in Prishtina, specialization research work on Computer Aided Design at Computer Centre of Birmingham University, UK; specialization research work on Optimisation and Design of Turbogenerators at Research Institute of Rade Koncar factory in Zagreb, Croatia and work in many projects linked with industry. Published more than 80 papers, publications, books – mostly at international level. Visiting professor and lecturer in TU Vienna, TU Sofia, University of Skopje, University of Bitola, Bharath University in Chennai in India etc. Member of a number of EU funded projects. In October 2015 is elected for Rector of University of Gjakova "Fehmi Agani".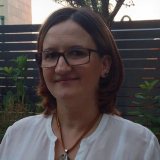 Mimoza Dushi
Dr. Mimoza Dushi completed her PhD in 2009 in Demography from the Faculty of Mathematic and Natural Sciences at the University of Pristina, Kosovo. Her doctoral thesis was an empirical research in the field of fertility and gender studies in Kosovo. Actually she is working at RRPP (Regional research Promotion Programme) project about migration and coordinating the Kosovo – Germany and Switzerland cases. Related to this, she stayed in the Institute of Education, University of Innsbruck, Austria for postdoctoral research. From 1996 she is working at University of Pristina, Faculty of Mathematic and Natural Sciences, Department of Geography, initially as assistant for social geography courses than from 2009 as professor assistant for courses of Demography, Migration and Population policy. Most of her articles are sole-authored, which she presented in the national and international conferences and published in scientific journals, such as Studime (by ASHAK), Romanian Journal on Population Studies and Environment and Ecology in the Mediterranean Region.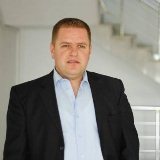 Denis Spahija
Mr Spahija is the Officer for International Cooperation at the University of Gjakova "Fehmi Agani" since 2014. He obtained his Bachelor degree from the Faculty of Applied Sciences and Business, University of Prishtina and a Masters dégrée in Entrepreneurship and Local Economic Development from the Faculty of Economics, University of Prishtina (2010-2012). This MA programme was developed as part of the Tempus project 145061-TEMPUS-2008-UK-JPHES Entrepreneurship and Local Economic Development in Albania, Kosovo and Macedonia. Currently doing his doctoral studies at State University of Tetova – FYROM. Mr Spahija worked at VTC "Gjon Nikollë Kazazi" (2008-2011) as a teacher for three years, where his duties included teaching, organisational responsibilities and design (promotion, participating in different programmes etc). From 2011 to date he became an assistant at the University College "Biznesi" in Gjakova, teaching Microeconomics and Macroeconomics. He then became Coordinator of Academic Affairs, Head of the Career Advisory Board, and continues to work there part time. During 2012 Mr Spahija worked at the Kosovo Management Institute as Manager for non-formal education, and conducted training needs analyses for different local and national companies and/or institutions, organising more than 30 training programmes in the region in Albania, Macedonia and Turkey for different Government Institutions.
Contact Person: Denis Spahija
www.uni-gjk.org